"I must say this was the missing piece of the puzzle..Since starting [Lugol's iodine] combined with selenium I have lost 30 lbs! I know this was the only change!" - Lisa P.
Thiodine Combo Kit
🌿USP grade 🌿Vegan-friendly  🌿Alcohol-free 🌿Soy-free 🌿non-GMO 🌿No shellfish or kelp 🌿Gluten-free
$99.95 + Free Shipping (USA)

100% Happiness Guarantee |  Safe Secure Checkout

🌿USP grade 🌿Vegan-friendly  🌿Alcohol-free 🌿Soy-free 🌿non-GMO 🌿No shellfish or kelp 🌿Gluten-free
⭐️⭐️⭐️⭐️⭐️
"THIS IODINE IS AMAZING, my body is back to normal, I got my energy back, thinking straight and much more alert!!" — Allison B.
The Power of Iodine

Say goodbye to morning sluggishness and afternoon naps. Thiodine Lugol's Liquid Iodine has the vital nutrients to help fire up your day and the CEO of the endocrine system, the thyroid gland. With its brain boosting ingredients and metabolic support, Thiodine Lugol's Liquid Iodine is
 sourced especially for your unique needs. 


PURITY AND BIOAVAILABILTY
Our powerful Thiodine Lugol's Liquid Iodine formula features both vital forms of iodine -- potassium iodide and earth sourced iodine -- for total support in milligram amounts. Sustainably sourced from deep earth mines in the USA, our Lugol's Liquid iodine is some of the best iodine in the world.  
FRESH INGREDIENTS
Per two drops, Thiodine contains:
- 7.5 mg potassium iodide
- 5 mg iodine (molecular, from deep earth mines)
- Distilled Water
With over 15 years experience and tens of thousands of happy customers worldwide, Miss Lizzy is your trusted source for iodine.
⭐️⭐️⭐️⭐️⭐️

"Noticed improvement in 3 days!! Now after 2 months I feel so much improvement in my overall well being. Better stamina, improved sleep, energy levels, dropping some weight... I feel fabulous!!" – Anne
Reasons to Love Selenium
EXCELLET ABSORPTION

Our Selenium contains the highest quality, organically sourced selenium-enriched yeast which means it has an excellent absorption rate and bioavailability.
POWERFUL ANTIOXIDANT AND ANTI-INFLAMMATORY 
Selenium can help to fight free radicals as well as lower inflammation.† Lower inflammation may help important physiological systems. (1)
SUPPORTS THYROID HORMONE CONVERSION
The tiny thyroid gland holds the highest concentration of selenium in the body.  Selenium is converted into selenoproteins which play a key role in thyroid function. These selenoproteins have an important job making metabolic fuel as they take the inactive T4 and convert it into the active T3. (2) 
FRESH, PURE INGREDIENTS
Each gelatin based capsule contains one pure ingredient -- selenomethionine from organically sourced, mineral enriched selenium yeast -- 200 mcg per capsule.
1. https://www.healthline.com/nutrition/selenium-benefits#section7
2. https://stopthethyroidmadness.com/selenium/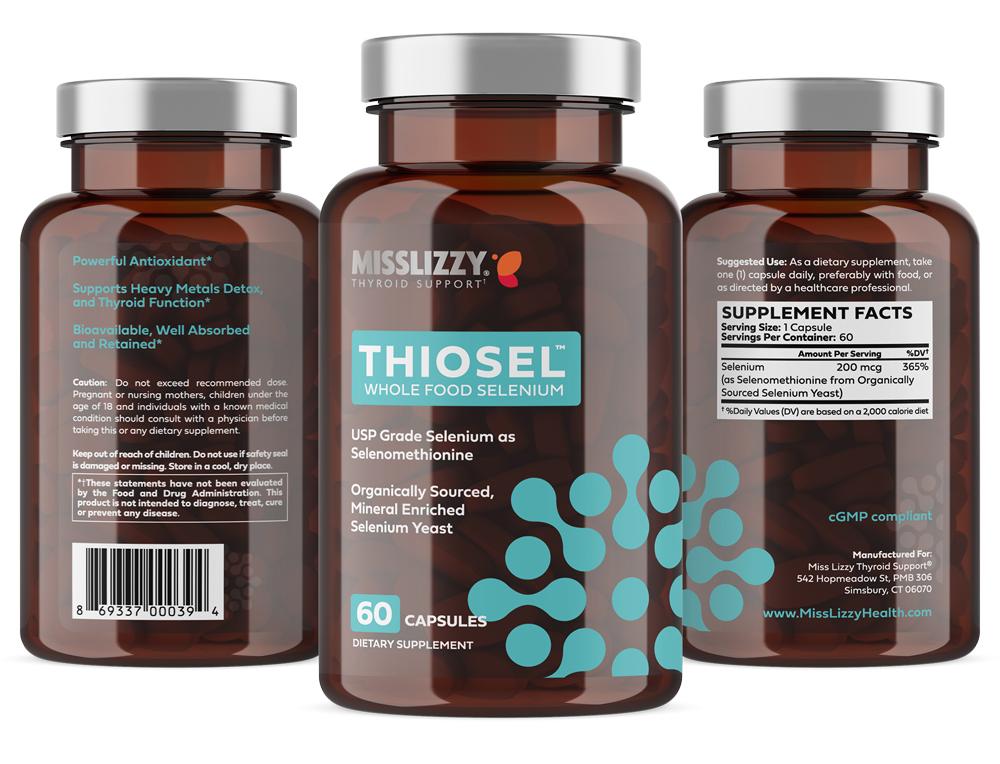 ⭐️⭐️⭐️⭐️⭐️

"Makes such a difference in energy for me!"
- Heidi C

Lugol's iodine was discovered in 1829 by the French physician Jean Lugol. The World Health Organization includes Lugol's Iodine on the List of Essential Medicines, as one of the most effective and safe medicines needed in a health system.1


How much iodine and potassium iodide is in Lugol's Iodine?

Thiodine Lugol's Liquid Iodine contains 12.5 mg total iodide per two drops. This amount includes 7.5 mg of potassium iodide and 5 mg of iodine in molecular form sourced from deep earth mines.




Is there are test for iodine deficiency?

Hair Tissue Mineral Analysis (HTMA)




There are several methods used by medical practitioners to measure iodine including blood test, iodine loading test and Hair Tissue Mineral Analysis.




Hair Tissue Mineral Analysis test can give medical practitioners a clear picture of what is going on in the cell. HTMA tests for 37 minerals and various toxic elements. Although it doesn't specifically test for iodine, there are simple ways to determine iodine levels via HTMA. For HTMA contact Stephanie Mace, owner and HTMA practitioner at NoshandFlourish.com.




For example, HTMA looks at sodium, selenium, potassium and lithium levels, all of which are reliable indicators of the levels of iodine in the tissues. The HTMA test can even indicate the presence of Hashimoto's Disorder. If there is not enough iodine in the cell, it can cause thyroid cells to become damaged. Hashimoto's disease can develop as the result of thyroid damage.




According to Mace, many of her patients have both the 24-hour loading test with bromine and an HTMA test done. The 24-hour Iodine Loading test with bromine can be used to determine whole body iodine sufficiency. Since it is possible to show a normal amount of iodine on the 24-hour loading test and still have symptoms of iodine deficiency, the HTMA test may help reveal iodine deficiency. For these reasons, HTMA is very helpful in correcting the root cause of the symptoms.




How much Lugol's Iodine should I take?

The range of opinions about how much iodine a person needs varies greatly among experts, practitioners and patients. The current Recommended Daily Amounts (RDAs) of iodine are based mainly on age and range from 110 mcg to 220-290 mcg per day. The above RDA chart is just a reference guide, however. Some patients following the Iodine Protocol might take as much as 50 mg a day or more. Iodine intake is different for everyone, depending on many factors. Always consult a medical practitioner who has experience with iodine therapy.




Do I still need Lugol's Iodine if I don't have a thyroid?

You may have heard that you don't need iodine if you don't have a thyroid, as you no longer make thyroid hormones on your own. However, this is simply not true. In fact, nothing is further from the truth. Every cell in the body needs iodine. In fact many people don't know there are two forms of iodine, potassium iodide and molecular iodine.The thyroid uses potassium iodide but the other parts of the body use iodine in the molecular form. Iodine is concentrated in all of your glands. The breasts, uterus, ovaries, prostate, pancreas, brain, and adrenals all use iodine. The skin and muscles also use large amounts of iodine.


The answer might surprise you. Like most Americans, you probably have a box of salt in your cupboard. Some refined table salt sold in the United States contains iodine so you might think that you don't need iodine but nothing is further from the truth. But many types of salt do not contain iodine. Find out how much iodine is really in that salt shaker, and what form of iodine you are getting. Learn more...


Is Lugol's Iodine safe for Hashimoto's?

Hashimoto's thyroiditis is a condition where the immune system attacks enzymes within the thyroid gland which can impair function and damage thyroid cells. Some experts have opposed the idea of iodine for Hashimoto's yet other experts have successfully used iodine therapy. Always consult an iodine literate practitioner. Learn more...

What if I have an iodine allergy?

Iodine is a vital nutrient needed for development and growth. Iodine is used by the thyroid gland to make hormones that support body functions. Low amounts of iodine can result in health issues. Have you had a severe reaction to iodine? Are you wondering if you are allergic to iodine? Many people don't know this but iodine isn't an allergen. It does not trigger an allergic reaction because it is found naturally in the body. It also occurs naturally in some food sources, such as fish. Iodine is a mineral that all humans need. If anything, iodine helps prevent allergic reactions. Learn more...


What is one vertical drop of Lugol's Iodine Liquid?

If you hold the dropper at an angle you will dispense almost double the amount of iodine for this reason its important to understand how to dispense an accudate amount. The proper way to to hold the dropper cap is in a normal vertical postion, not titled on an angle. Then squeeze the rubbber bulb one time to dispense a single drop.